Eye Enhancements
Eyes are a face's focal point colouring your eyelashes and brows highlights them. Hair gets bleached by the sun and water, tinted lashes need less mascara for a healthier more natural sparkling look. We can advise you on the colours best suited for your lashes and brows, also if you are suitable for an eyelash lift curling your top lashes to complete the result. Add some relaxation with a scalp massage during the tint processing time for a special price of $10.
Permanent Hair removal
Electrolysis destroys the hair follicle providing permanent removal of unwanted hair over time. This is great for coarse hormonal hairs. Advanced electrolysis removal technique is used to get great results. Alkaline hair removal is great for an all-over hair removal to retard and slow the growth of all facial hair including the unwanted fluff. Consultations are essential
Red Vein Treatments
Have you got broken capillaries on your face? Red Vein treatments will help reduce the redness using advanced cauterisation, giving you a more natural-looking complexion. Our DMK Enzyme skin treatments also help by strengthening the capillary network.
Waxing
We use Hygienic creme Strip wax in cartridges and ultra film throwaway hot wax. We choose our wax-based on client comfort and safety, not on cheap pricing. Ultrafilm hot wax is used with an oil prep that means the wax doesn't stick to your skin only the hair, therefore making it less painful. A full range of waxing treatments is available including woman's Brazilian waxing. Bleaching lightens your hair and is an alternative to facial waxing.
Spray Tanning
Our Spray tan is the best available. We use a quick-drying product to prevent it rubbing off on your clothes. Our technique is perfection!Avoid the sun, use our great sunblocks DMK $33, and skinnies $35 made here in New Zealand we only stock sunscreens that protect you from UVA and UVB. Avoid sun cancer.
Nails manicures and pedicures
The complete grooming is when we care for our hands and feet.We do a variety of manicures and pedicures form 30 mins to 75 min if you want a quick pick me up or a full treatment including layers of dead skin removal and gel colour the choice is yours!
Massage
Our therapists are trained in traditional Swedish, deep tissue and Indian techniques. Pure aromatherapy oils and a great massage tailored especially for you is beneficial in removing all stress and aids in "pure relaxation". We give you the massage that you need whether it is a "Deep tissue" to break down knots or "Relaxation" to destress. We also do Hot Stone Massage this is an experience of Pure Relaxation! Warm Balinese Stones infused with an exotic cocktail Oil, are used in this full-body journey of Eastern and Western massage therapies. Designed to massage all of life's stresses away.
Pure Fiji Body Treatments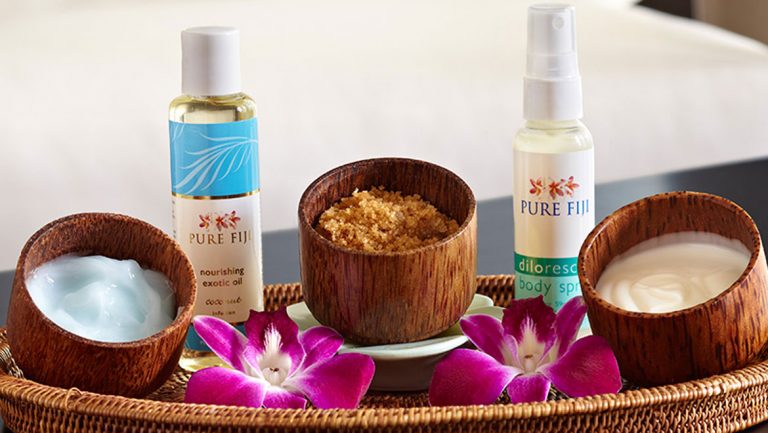 Pure Fiji Island Island Body Wrap Your skin is gently brushed and massaged. Your body is then wrapped while a warm oil scalp and facial massage relieves all tension. Your hands and feet are cocooned in a body butter mask to restore hydration. This ultimate treatment leaves your body hydrated and restored while your mind stays on "Island time". Treatment time 90Min's $150 Pure Fiji Sugar Glow Relax and enjoy as milk from the coconut combined with macadamia and coconut oil are gently massaged into the skin followed by an application of pure cane sugar and tropical nut oils ridding the body of dead skin, revealing new healthy skin. treatment time 50Min's. $90.
Sparty's and Packages in clinic
Get a group together of 6 or more friends and prepare to be pampered. Treatments include manicures, pedicures facials and back massage $50 each.
We have a range of package options that are perfect for when you want "Time for You"Our packages range in time from 1½ hours to the ultimate in pampering, the "Top to Toe Chill Zone" 3  hours. Packages also make the perfect gift. Feel free to talk to us for inspirational ideas for the person in your life that needs some pamper time.